Yesterday I was on facbook and saw a photo I thought made a lot of sense. The Picture you see is Uzo Aduba a character on the Netflix series Orange Is The New Black. I think the words pretty much says it all.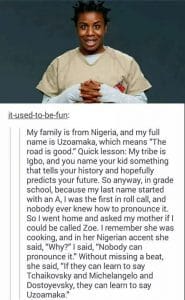 What is the point of changing your given name to make another person comfy because they cannot pronounce it properly. The idea is to make an effort. If I go all out to learn how to pronounce all the odd names I have never heard of, why not do the same thing? An African name is no stranger than a Russian, Polish, or German name.
If my name is Nneka, I will not change to Neka. If it's Edidiong, I will not change it to Didi, or Eddie. If it's Okporoko I damn well will not change it to Koko. I could write down a whole bunch of Nigerian names but you get the point abi?
In my opinion, it's a lot better to pronounce my name in all the ways possible except the right way than to cut it short for your comfort. If you are called Deirdre, I will get it right. Or Schumacher, or Müller, or even if your mama decided to name you Reißverschluss…
Ever had anyone slaughter your name?