Because when it's sunny we think about skin!!!
As much as I'm excited for the warmer days ahead, I'm petrified of all the crawlies and bugs and all and I am not ashamed to admit it!
But aside from all those massive bees and flies zapping around, it's amazing to be able to show more than just a bit of skin.
So let's talk about this skin.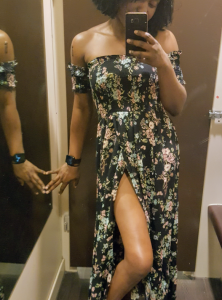 Growing up in Nigeria, I remember dark skin taking the short end of the stick and I don't mean all dark skin. I'm talking about the female dark skin kind.
It was OK for guys to be dark skinned. They were desirable and there was nothing wrong with them.
But dark women in Nigeria when I was growing up? It was so sad. It probably still is the same now as it was back then.
Now I wasn't the darkest girl back then, but I wasn't the prettiest either and I didn't mind. I don't know why I was nonchalant about the hate on dark skin or not being pretty enough… Because that's what it was… Hate. But I was and once you are done with your hate, you alone would walk away, moving on to your next target and I just as quickly forget you existed.
I was called all sorts of names and was likened to a lot of not very nice things and I didn't understand what the hate was about.
Hell I still don't have any idea what the hate is about to be honest. And I'm not going to start now to want to get any sort of idea as to why people are hated on because they are dark skinned because there is so much good in the world so why should I capitalize on something so stupid like hating on the tone of another's skin?!
If you are expecting me to say I can understand stupid ass Caucasians hating on dark skin, I so won't because I ain't gonna write that crap down because it is crap, that's what it is.
But when someone who is just as dark as you are gives you all kinds of idiocy, you start to wonder if the psychiatric ward is missing an idiot or two.
You get told that being dark skin means you can't wear red lipstick or put on brightly colored clothes. That having any other color in your hair besides black was impossible. Beauty products are advertised, forgetting the dark girls because no one thinks about them.  You get told that you can't use hair products made with Caucasian women in mind because they won't do anything for your hair.
But all that is in the past now right? Or at least some fools are realizing that the media isn't always right in assuming they know what the public wants to see.
I walk down the streets in my city and I see billboards with black women. I walk into the stores and I see magazines with women who actually look like me gracing the covers.
I have been using Isana hair care products for almost a year and my hair is fine.
I am a black woman who glows in my own beauty. I may not look like anyone from the destiny's child girl band or Tiana from the frog Prince animation. I may not have red lips or round hips and big ass buttocks that look hot in jeans but I believe in myself and the confidence of walking out of my flat with no make up on.
The dark spots visible on my face and my ashy hands hidden with a ton of baby oil(because no way in hell am I going out without baby oil.
Call it contradiction on my confidence I don't care. My freak out thermometer is always on high when I see a spot of ash on my beautiful skin!
So the sun is out and the day is warm. Beans with some veggies and left over KFC chicken and fried plantain is the plan for a sort of late lunch. I've adjusted an Ankara dress sent to me by my sister and also made myself a denim dress!
It's a beautiful day and I am using it wisely. My skin will be beautifully exposed this season(no, you won't be seeing my half butt cheeks or Lolly and her step sister Lilly… Get your head out of that gutter!)
But I won't be hidden inside coats and winter jackets because I want to look upon my skin every second I can. At least until the next winter!